Maui Bee Well Testimonials
Scroll down to submit your own testimonial using our form.
8/10/2022 – I am so grateful to have found Maui Bee Well's haole rot helper. I have tried so many treatments for my white spots, which have continually become worse over time, with no success. Haole rot helper is a miracle healing ointment. My skin soaks it up and the white spots disappear. So incredibly happy my search for help with this fungus is OVER. I am 47 years old and have been dealing with this for over 10 years. Whatever your ailment… try one of these ointments… you will be astonished with the results! – Samantha
---
7/27/2022 – I was introduced to Bee Well products many years ago at a street market and loved the product a friend purchased for a cold sore! Whenever I visit Maui I stock up on these fabulous products. I was so happy to see she had been able to open her own shop/gallery. I recently ordered online & made a mistake regarding shipping so I called the shop. I actually got Jeanette on the phone & she had just arrived home. She was extremely helpful, courteous & respectful even though she had worked all day. She helped me complete my order & even helped me decide which products I needed for different needs. I highly recommend all the products & encourage anyone who visits Maui to spend some time at the shop/gallery for a great experience! – Virginia H.
---
8/2020 – Hi Jeanette – Jette here, not sure you even know my name, but you know me when you see me. I wanted to tell you that I have been using your anti-fungal salve on my Big toenails for a while, wanting them to heal from both trauma and fungal infection. ( living and working in the jungle) and One nail was so misshapen that it buckled up in the middle all the way from down to up. So now after putting the salve on for yes, quite some time every night, they are finally looking like they should – I used tee tree oil on them for a long time until I decided to try your salve. So happy it came to me to do that! And thank you for making it.
---
5/25/2020 – I just wanted to send such huge thanks. I've been using your comfrey salve for 6 months, for example, I had a large deep scar across my forehead and it is starting to disappear! It's profound! – Helen
---
8/2019 – After decades of neglecting a foot fungus, my friend has started to apply your Haole Rot Helper and Fungal-FREE salves to his feet over the past month, and the results are incredible. His feet look and feel like totally different feet. His feet, toes, and toe nails have a huge visible improvement – they look and feel much healthier and softer. The toe nails and skin beneath are healing for the first time in his adult life. We are so grateful for the healing foot fungus medicine made by Maui Bee Well. We are also using the Luxury Softening Salve now on both of our feet and it's wonderful. Mahalo!!
---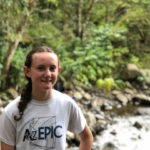 4/15/2019 – Hi there, You probably don't remember us from the Maui flee market, but we were a family of 4 that purchased a few 2oz pots of healing goodies. We were visiting from Phoenix.  My 11 year old daughter had itchy, bloody bumps on her knees that she consistently has under her volleyball kneepads. She has struggled with this for years. Following your suggestion, we purchased Fungal Free and we are happy to say that her knees are 100% clear. We also went up to Iao Valley and were so happy with your suggestion to visit it. Beautiful!! I'm happy we ran into you. Thank you for all of your suggestions! 🙂 Erika
---
2/2/2019 – Hi, started using your blood root salve off and on about 7 years ago for precancerous spots on my scalp. Recently, one of those spots became quite virulent and my family doc scheduled me for surgery. Had a pre op visit with the surgeon who agreed with the need to remove it and scheduled an appointment in about 5 weeks. Long story short, I started a twice daily regimen of blood salve and when I went in for the surgery, the surgeon said "do you remember where the lesion was?" and sent me home. I am no longer an off and on user. Robert
---
5/2018 – Hi Jeanette: We have not met, but I have recently become acquainted with your products through my friend Jenn Yost Rose. She picked up your Immunity Booster and a jar of Staph Salve for me, as I recently had a bout of impetigo under my armpit. I was very skeptical that it would work, but it's almost completely gone and best of all it took away the annoying itch.
I am a true believer in your products and will be happily ordering some more salve, just in case the icky germs come back. Thank you SO much! Love, Liz
---
12/2017 – Jeanette,  I met you at the Swap meet in Kahului last Saturday. I was skeptical of the product and the price. I have had issues with sore chapped lips and sun rash's and bug bites for years and years.  I took a chance and bought the lip balm and the anti fungal and I just want to thank you from the bottom of my heart for creating these! After 2 day's my lips feel awesome, better than I can ever remember !!! I broke out in a sun rash on Sunday, used the Anti Fungal and it was Amazing immediate relief of the itching. I am a total believer and will recommend you product to everyone I know. Thank you so much for what you do.
Patti Santowski
---
12/2017 – I had to tell you…  I gave away half of my last  tub to a friend who fell and had many bruises. I  have had such good success with my bruises on my  legs…   In the past, when I got a bruise…  it turned into a brown spot after it  healed… (which did take a long time)… Now, when I get a bruise  on my legs,  I  put the healing salve  on it morning and night… and it heals faster…but…   also….. it does not have a brown spot… I am so  happy about that..   so, I ordered another tin… to make sure I always have some…  Thank you, Bette Davis
---
Just want to let you know, how awesome your rub is the one we purchase on the Saturday Maui market. My knee was sore for days before I used your product. And now my knee is fine. 🙂 So it's not just muscle rub it's a joint rub also. Thank you. PS: totally will buy some more of your product. 🙂 -Tatyana
---
Hi Jeanette, Just wanted to say the Blood Salve is working nicely – am healing well…And I am taking your other products and feel like they are very beneficial…thanks for putting your heart and healing, loving energy into your products. – Suzee
---
November 2017 – I recently got both of Maui Bee Well's first aid kits. They are amazing! I have used 2-3 products from both kits in the past 6 weeks, including the pet salve, staph helper, and the skin softener. I am so happy with the results and they each smell so good. I have shared them with friends. Every household needs these! Mahalo, A.L.
---
Hi Jeanette, We were vacationing on Maui recently and at a craft fair I purchased a can of your Anti-fungal Herbal salve which has almost cleared up a nail fungus I have been struggling with for some time. I need to order some more of this miraculous salve, please let me know how.  I look forward to hearing from you soon, as my supply will soon run out. Many thanks, René
---
Hi Jeanette – I met you at the Sugarman Estate when I was playing violin for a benefit, and bought most of your products. I'm enjoying them, and have almost finished the Vitality Booster. Please let me know where and when I can get more, or if I should just order it online… I'd rather pick it up in person, if possible, to save on shipping. Thanks and Aloha, Don
---
I just wanted to take a moment to thank you. I recently purchased your Maui Bee Well Comfrey Salve and I couldn't be happier! My little girl has had skin problems since birth and everything we've tried only gives temporary relief. But after only a week using your Comfrey salve her skin looks perfect and she is a very happy baby! Thanks again, Robin
---
1/11/14 – Hello Jeanette, I hope this finds you happy and healthy. I don't know if you remember me, I put in an order in May for my women's group. Everyone loved your muscle soothing salve. I would like to order your products for my clients (I am a massage therapist), for Christmas gifts.
---
12/04/13 –  Hi Jeanette, A note of gratitude for your comfrey healing salve! My pregnant daughter Carrie & I met you the end of June at the market in Maui. I had an extremely swollen eye which lead me to purchase 1 comfrey salve (and 2 blood root salves also for Arizona sun damage).
My daughter had her baby this week & I can't tell you how the healing comfry salve was a life saver! I felt compelled to bring it with me to Anchorage for the birth of the baby. From her very sore nipples from starting nursing… to helping heal her back & stomach which both broke out in serious rashes from surgical tape. After a last second emergency C section. With many, many things to worry about this week these issues were not one of them, thanks to your comfrey healing salve. The back rash was even ordered a cortizone cream by her doctor, that at the first application seems to really make it better… but the second time made it worse than ever. We promptly went back to your "Maui Salve" & it is healing nicely now.
We want to order more of your salves in quantity as soon as possible… Thanks & Blessings, Debbie
---
New Testimonials for Maui Bee Well medicinal products
Submit Yours: